A driving simulator for training people with Spinal Cord Injury to re-learn driving while in hospital.
Adapted driving simulators offer Spinal Cord Injury (SCI) survivors a mean to re-learn driving in a safe and controlled environment.   Commercial, high-end driving simulators cost runs in the one hundred-thousand-dollar range, require large amounts of space and are hence not useful in a clinical environment. Furthermore, most of the systems are not directly accessible to wheelchairs and many lack of immersivity, thus not providing a fully realistic driving experience. The Spinal Cord Italian Lab aims to develop an accessible, highly realistic driving simulator that will:
Allow patients to freely practice driving during their hospital stay;
Offer an immersive virtual reality environment;
Allow to investigate how patients recover their ability to drive;
Allow developing a quantitative assessment of individual driving skills;
Allow to verify the effects of different medications that can impact driving abilities;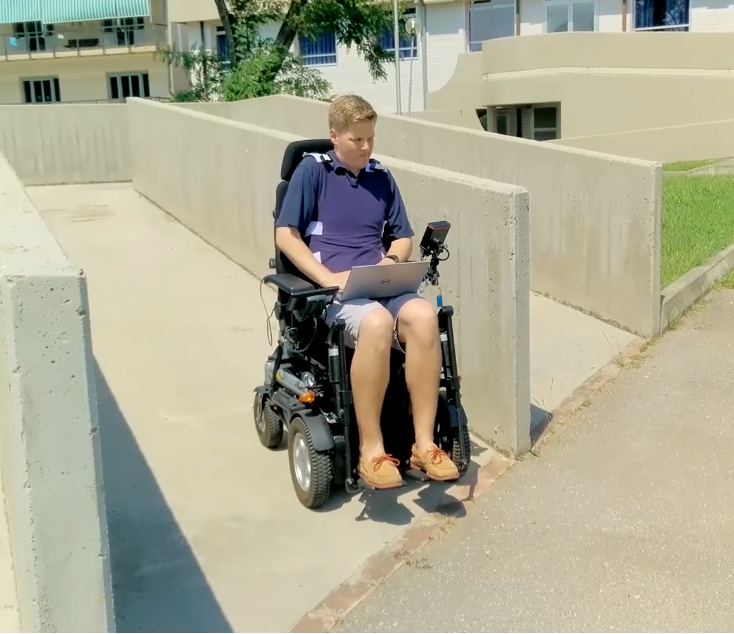 A powered wheelchair controlled by upper body motions to enable cervical Spinal Cord Injury patients to move freely and independently.
High-level spinal cord injuries (SCIs), specifically injuries to the cervical spinal cord, result in sever motor loss. Despite this, many individuals retain some movement ability, allowing for control of assistive devices such as power wheelchairs. The majority of power wheelchair users rely on a hand-controlled joystick as the method to control the movement of the power wheelchair. However, many individuals with cervical spinal cord injuries may have limited arm and hand control or coordination. This can result in either a decreased ability to control the power wheelchair or the need to use alternative controllers. The goal of the Spinal Cord Italian Lab is to develop a body-machine interface (BMI) capable of providing a highly customizable control by transforming the patient residual upper body movements into signals to control both the speed and direction of a powered wheelchair.
A sensorized system capable of measuring the pressure and the tangential shear forces at the level of the body-wheelchair interface to relieve pressure and decrease the potential of skin breakdown.
Pressure ulcers (PU) significantly affect the quality of life of wheelchair users with SCI and are among the most frequent causes of re-hospitalization of people with SCI. PUs result from localized injury to the skin and underlying tissue and usually occurs over a bony prominence as a result of pressure in combination with shear forces. Both pressure magnitude and duration are thought to be key risk factors in the occurrence of ulcers, thus exposing wheelchair-bound subjects to high risk of PU development. At present, a solution commercially provided are "pressure-release wheelchairs", which provide the user with the possibility to tilt the chair in order to redistribute the pressure. However, the decision of when and how long to tilt the chair is completely left to the user, who doesn't always have the knowledge needed to take such decision. Current available pressure-release wheelchairs are not equipped with the technology to inform the user on its condition. This laboratory aims to design and develop a sitting sensorized system capable of measuring the pressure and the tangential shear forces at the level of the body-wheelchair interface to automatically alarm the user when the wheelchair seat needs to be tilted.